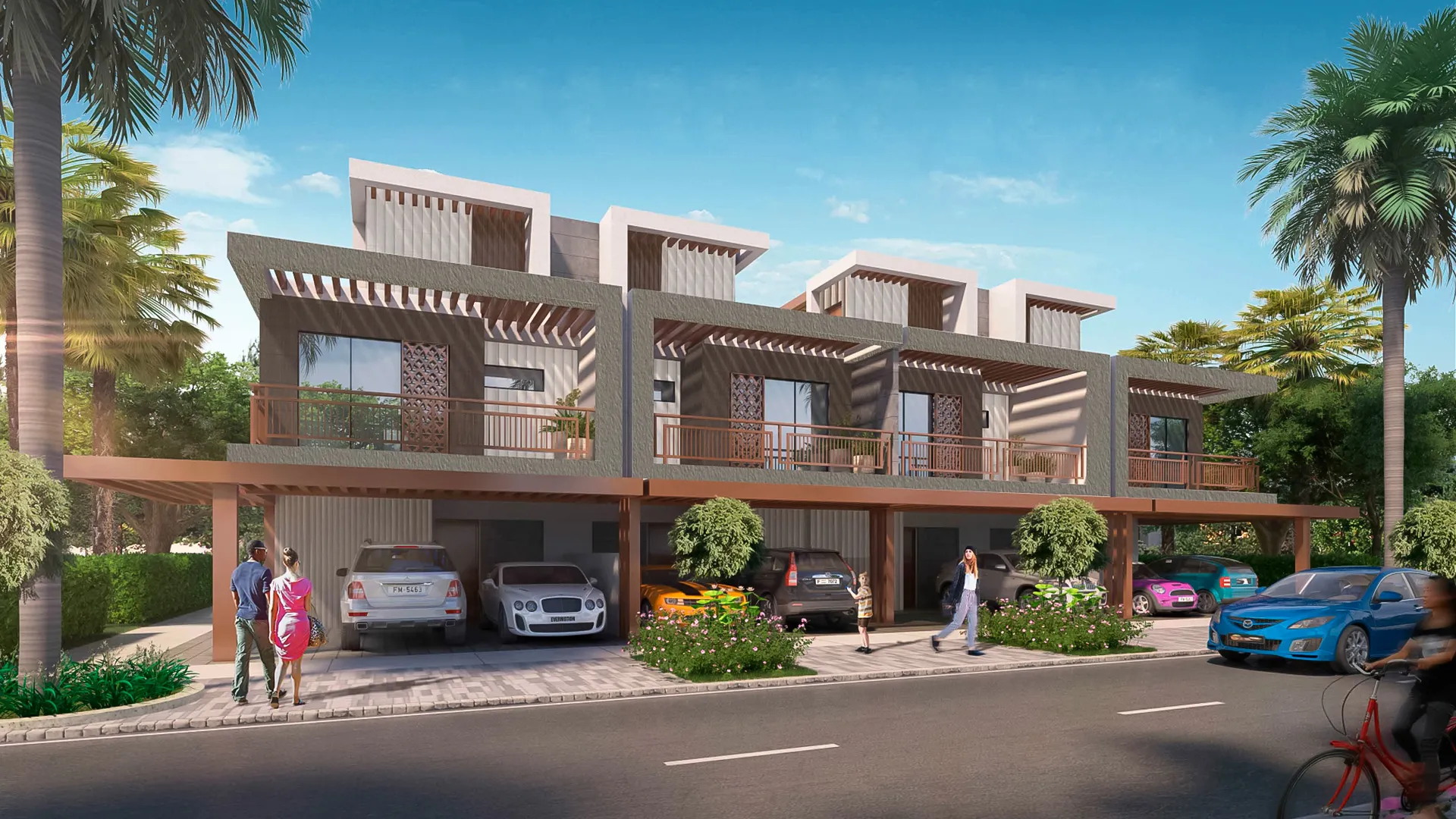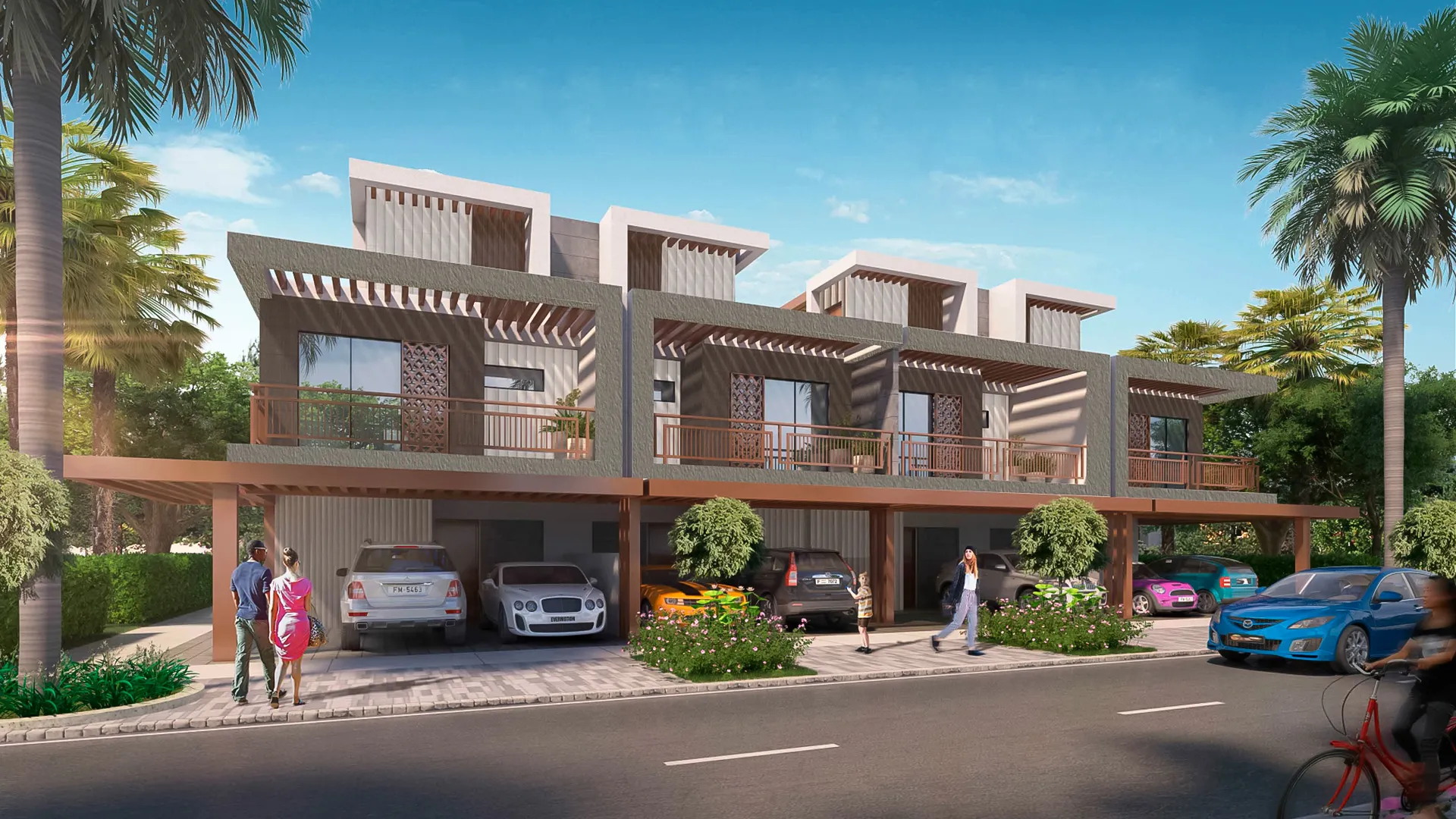 Features & amenities
Barbecue Area
Children'S Play Area
Near Restaurants
Swimming Pool
Parks
Spa Facilities
Key features of Verona Townhouses
Verona Townhouses is a new residential project by Damac that will complement the Damac Hills 2 area. The community has three-story 4-bedroom townhouses with well-kept terraces, parking, and garden spaces.
Damac Hills 2 is a fairly developed area with its own infrastructure and luxurious amenities, which will also be available to all residents of Verona Townhouses. Schools, kindergartens, pharmacies, recreation areas, shops, and restaurants – all this is already operating in the area and is waiting for new residents.
The architecture
The landscaping of the community consists of several groups of residential buildings that are surrounded by green areas. Townhouses are designed in a modern style with light colors and natural elements. The design style of the houses is in harmony with the surrounding landscape, complementing it and creating a unique atmosphere for the entire community. Residents can also take part in maintaining the unique look of the community by creating their own flower displays in the local area.
Target audience
Verona Townhouses is ideal for couples who want a peaceful and safe life surrounded by nature. Schools, kindergartens, and medical clinics are located right in the territory of the district, which will be a big plus for families with children. Another advantage is entertainment, for example, children's and sports grounds, a water park and a farm with animals.
Due to its convenient location and proximity to the main city roads, the local lifestyle will also attract tourists with temporary tenants. Tourists will love that popular attractions are within driving distance of the community. And tenants will like the atmosphere, especially in comparison with the active rhythm of life in the city.
Daily life at Verona Townhouses
Residents will be able to enjoy everyday life with a wide range of recreational opportunities. The community also has quick access to several major highways.
Thoughtful layouts of townhouses will be the key to a relaxing holiday and productive work in the house. The house territory and the garden in the backyard are also at the complete disposal of the owners, which will be a big plus for gardeners.
Transport accessibility
There are no public transport stops in the community, so the most convenient option for transportation is a private car. Each townhouse is equipped with a parking space, so finding a parking space will not be a problem for residents.
There are several main roads near the area: Al Ain Road, Emirates Road, and Lehbab Road. On them, the journey from Damac Hills 2 to the center of Dubai will take no more than 30 minutes. At almost any time, you can turn off the road to visit one of the neighboring areas for leisure or business.
Attractions around the area
There are two complexes on the territory of Damac Hills 2: Sports Town and Water Town. Sports Town has a wide variety of sports grounds and opportunities for sports in a comfortable environment. And Water Town has several water activities, such as Malibu Beach and a floating cinema. Outside of the area, you can also find many popular attractions that are easy to reach.
The Global Village is a unique place, ideal for families. The fair consists of more than 20 huge trade pavilions, each of which presents national goods and souvenirs from almost a hundred countries. In addition to selling souvenirs, you can also find a considerable number of attractions and animators here. Also quite often there are music concerts and show programs on a certain theme.
Nearby there are 2 large shopping centers at once: Cityland Mall and Dubai Outlet Mall. Here residents can comfortably do shopping, and then visit local cafes, which will also delight with their menu.
Sports enthusiasts can visit The Sevens Stadium, a huge stadium that often hosts various sporting events, such as rugby, tennis, football, and basketball. Also, from time to time, musical concerts of popular performers are held here.
Types of real estate at Verona Townhouses
The community consists entirely of bright three-story townhouses. Each house has a parking space, several balconies, a garden, and a terrace, which will be a great place to meet friends and neighbors.
The internal layout and the total area of the facilities provide enough space for every member of the family to feel comfortable. On the first floor, there is a spacious living room, an office, and a kitchen, the second floor is reserved for private rooms.
Read more
Convenience of living at Verona Townhouses
Verona Townhouses is a part of the large Damac Hills 2 area, the amenities of which are available to all residents of the community. Three-story townhouses are made in a modern design style, and natural wooden elements were also used for their decoration. The green landscapes of the community create an atmosphere of calm and security, which is actively maintained by the residents.
Average prices
Size
Price

View
View
View
View
View
View
PAYMENT PLAN
Installment:

1

20%
On Booking
Installment:

2

50%
During construction
Installment:

3

30%
On Completion
Atmosphere of Verona Townhouses
Living in Verona Townhouses is suitable for couples who want a quiet and safe life in the suburbs. Residents have access to all the amenities of the Damac Hills 2 area, including shops and three different themed recreation areas with sports fields, swimming pools, and green parks. There are 2 main roads next to the community that allow fast travel around the city. The community has luxury 2- and 3-story 4-bedroom townhouses that come with their own garage and garden.
EXPLORE
Estimated cost
$1.660 billion
Location
SCHOOLS NEARBY
Gems First Point School
Dubai Al Ain Road, The Villa, Dubai, United Arab Emirates
Distance:

11.88 km
Ranches Primary School
Ranches Primary School, Arabian Ranches 2
Distance:

12.63 km
GEMS Wellington Academy - Silicon Oasis
GEMS Wellington Academy D54 Street - Dubai
Distance:

15.04 km
GEMS Metropole School
Honsho Road, Uptown Motor City
Distance:

15.79 km
Safa Community School
Safa Community School,Dubai, United Arab Emirates
Distance:

16.41 km