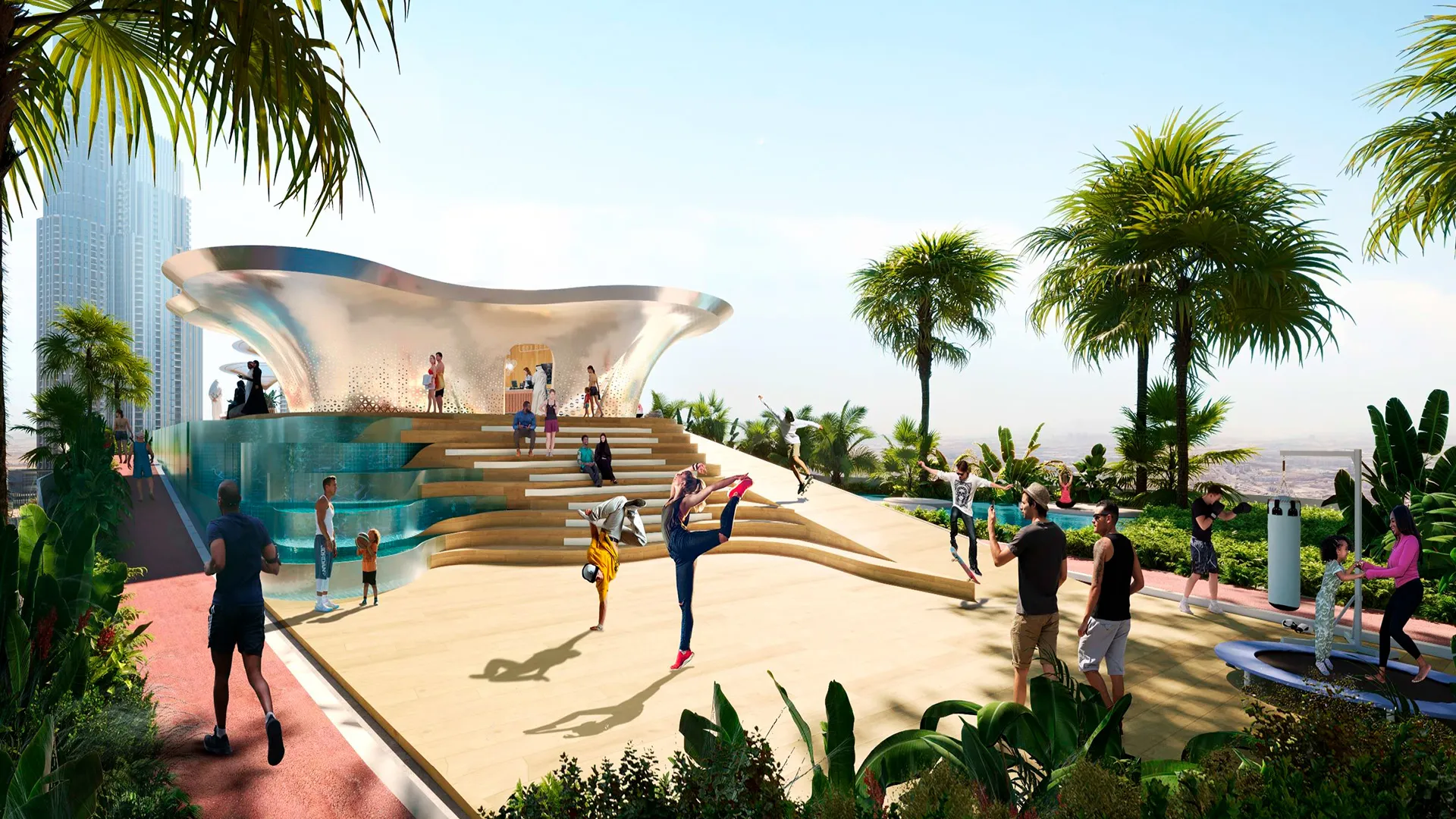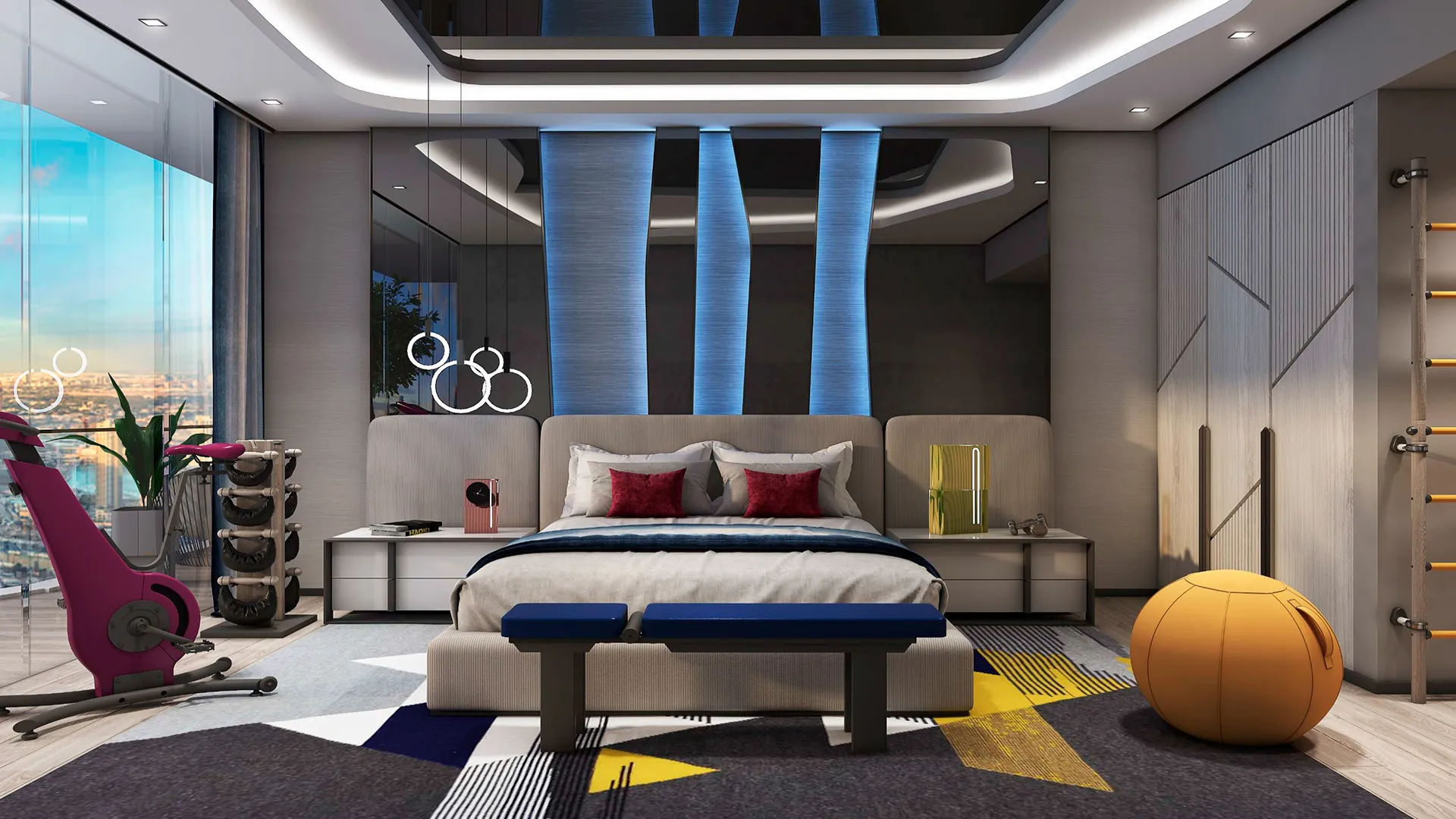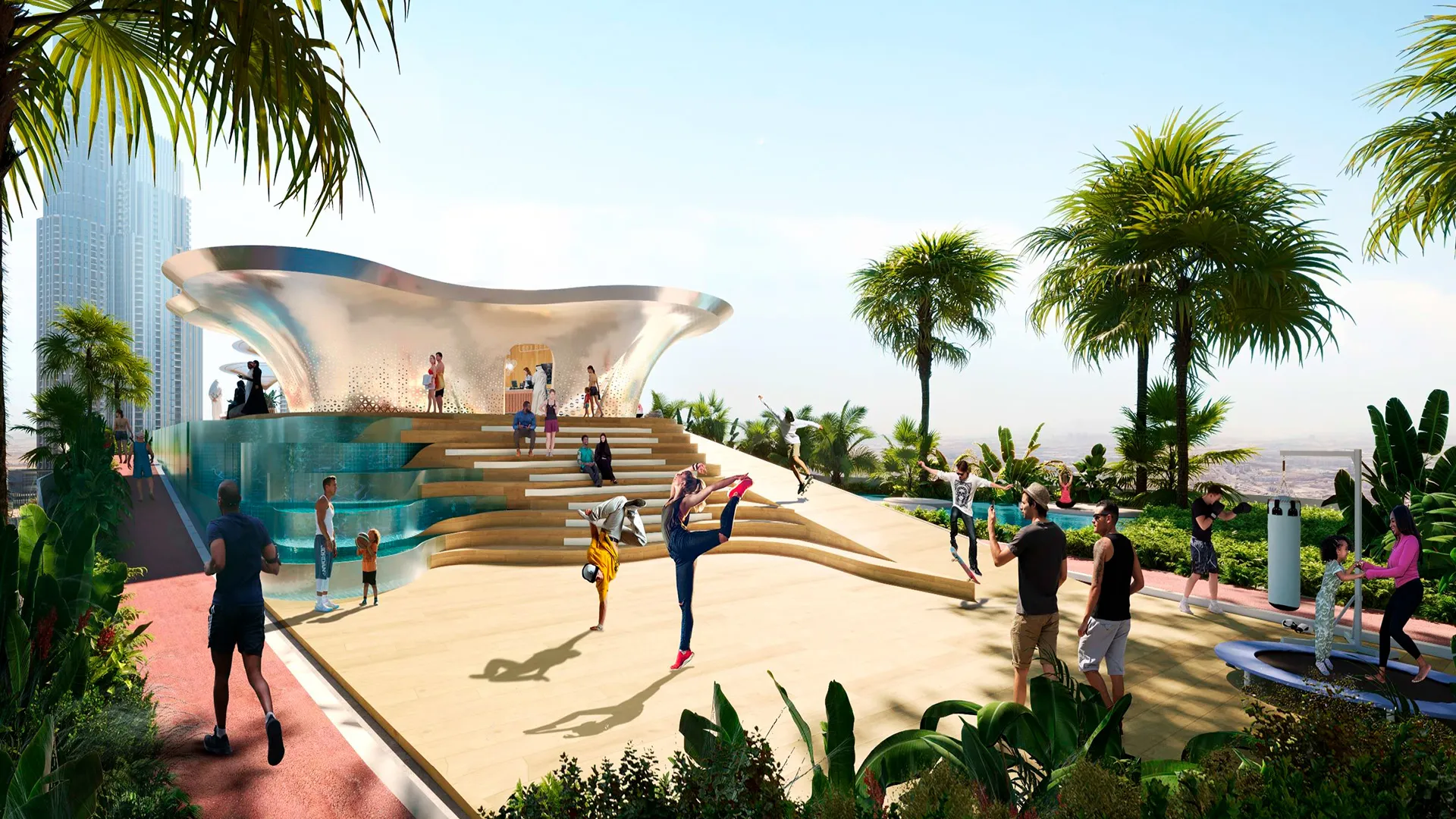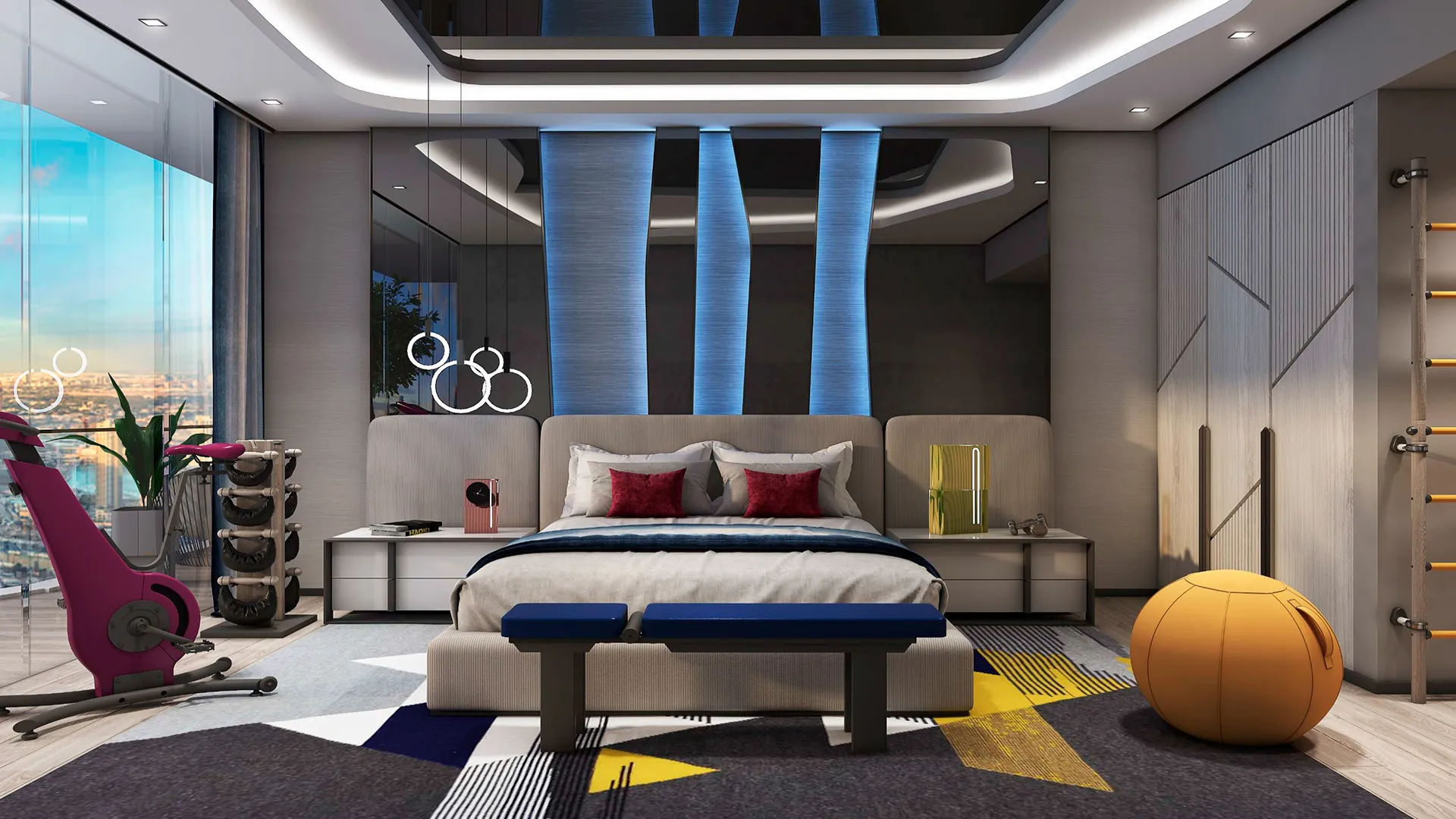 Features & amenities
Children Play Area
Gym
Spa Facilities
Trampoline Park
Outdoor Pool
Near Mall
Lifestyle at Volta Residences
Located close to Sheikh Zayed Road and just a few minutes' drive from Downtown Dubai, Volta Residences epitomizes prosperity and comfort. This residential complex perfectly combines modern urban convenience with luxury.
Here, you'll find not only beautiful apartments but also a wide range of amenities for your health and well-being. The complex features a dietary consultant, an emergency center, an aqua gym, ice therapy, and a multisensory yoga room. Surprisingly, there's also an acupuncture studio, physiotherapy services, aqua massages, and cosmetic treatments to enhance your beauty.
Thanks to its convenient location just a 2-minute walk from the metro station, residents of Volta Residences can easily and quickly navigate the city, enjoying all the advantages of urban life.
Building highlights
Volta Residences comprises two contemporary buildings. The ground floor of the first building features an incredibly modern and stylish lobby, while the first floor hosts various amenities to enrich your daily life.
From the second to the 50th floor, you'll find one- and two-bedroom apartments, providing comfort and functionality to suit various needs. From the 51st to the 60th floor, there are three- and four-bedroom apartments with breathtaking views.
The second building includes a podium and rooftop amenities, offering unique opportunities for an active lifestyle. Within the complex, you can enjoy a sky pool, a modern sports area with state-of-the-art technologies, a yoga zone, and even Botox & Burger. For those who appreciate style and individuality, there's a custom zone where you can stylize footwear in various colors and designs.
Additionally, Volta Residences boasts a rock climbing wall, a trampoline park, and even a neon boxing ring, accessible 24/7.
Property highlights
Volta Residences offers luxurious and ultra-luxurious apartments, providing the utmost in comfort and style. The windows in the bedrooms and living rooms frame mesmerizing views of the sea and the iconic Burj Khalifa skyscraper, creating a unique atmosphere of luxury and sophistication.
In the bedroom, living room, and dining area, the floors are covered with ceramic tiles. The kitchen is equipped with tasteful cabinets and features a dining countertop crafted from natural stone. Essential kitchen appliances such as a stove, hood, refrigerator, and washing machine are thoughtfully included. Ceramic tiles also adorn both the kitchen's floors and walls, complementing the stainless steel sink fitted with standard plumbing.
The main bathroom can be customized with an accent wall, and it boasts high-quality fixtures and accessories. Mirrors and shower enclosures are seamlessly integrated.
Some apartments also offer additional amenities, including a modernly equipped gym and a swimming pool.
Attractions around
Dubai Mall, one of the world's most renowned shopping and entertainment destinations, is just a 5-minute drive away. This is the place where you can indulge in shopping for global brands, savor dishes from various cuisines, watch a movie, and much more.
Additionally, the complex is situated near Downtown Dubai, a central district teeming with numerous cultural and entertainment events. Here, you'll discover art, culture, restaurants, and a wealth of experiences that make it an ideal locale for strolls and exploration.
Read more
Atmosphere of Volta Residences
Volta Residences offers its residents a luxurious and contemporary atmosphere. In the second building, there is a podium and various rooftop amenities. For those who appreciate style and individuality, the complex features a custom zone where you can give your footwear various color shades and designs. If you prefer an active lifestyle, the complex features a climbing wall, a trampoline park, and even a neon boxing ring that's available 24/7. The interiors of both the apartments and the building itself follow the latest design trends, blending various vibrant colors and even neon lighting to create a unique and incredibly stylish atmosphere.
Average prices
Size
Price

View
View
View
View
View
View
PAYMENT PLAN
Installment:

1

20%
On Booking
Installment:

2

60%
During construction
Installment:

3

20%
On Completion
Convenience of living at Volta Residences
Its location near Sheikh Zayed Road, just minutes away from Downtown Dubai, allows residents to enjoy all the benefits of urban life in one of Dubai's most prestigious areas. Thanks to its proximity to the metro, residents can easily reach any part of the city, making citywide commutes incredibly convenient and hassle-free. Additionally, the complex offers access to a dietary consultant, trauma center services, an aqua sports gym, and a room for cryotherapy.
EXPLORE
Estimated cost
$1.660 billion
Location
SCHOOLS NEARBY
JSS PRIVATE SCHOOL LLC
Near Gulf News Office, Near Safa Park
Distance:

1.61 km
Horizon English School
Al Wasl Rd, Dubai, United Arab Emirates
Distance:

1.96 km
Al Shorouq Private School
Sheikh Zayed Road, Dubai
Distance:

2.17 km
Jumeira Baccalaureate School
Jumeira 1, 53B Street, off Al Wasl Road
Distance:

2.51 km
GEMS Our Own Indian School
Al Quoz, Dubai, United Arab Emirates
Distance:

3.00 km
Downtown Dubai
Downtown Dubai resembles the two most prestigious square kilometers of Dubai, located in the heart of the city along Sheikh Zayed Road, next to Business Bay.
EXPLORE